Unfinished Business:
A Blueprint for Uber, Lyft and Taxi Regulation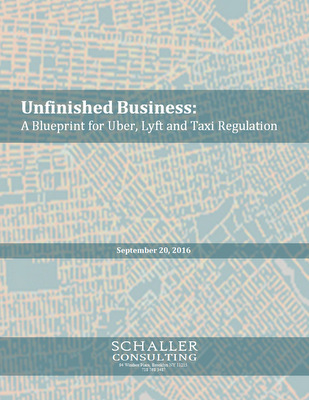 With big-state legislatures stymied over how to regulation Uber and Lyft, this report summarizes the debate on each of five key issues, assesses the arguments put forth by the various stakeholders, and makes recommendations designed to achieve core public policy goals of service, safety, competition and equity, while fairly balancing competing interests of companies, drivers, customers and cities themselves.
The report can help guide elected officials and the public to ensure that legislation works to improve access for all customers, leads to fair treatment of drivers and creates a competitive landscape for Uber, Lyft, taxis, new app-based services hitting the roads, and potential new entrants like Google. Decisions being made now lay the groundwork for the much-anticipated adoption of self-driving vehicles. (Released Sept. 2016)
Related reports:
---
Executive Summary
After winning adoption of favorable legislation in over 30 states from 2012 to 2015, the fast-growing app-based ride service companies Uber and Lyft encountered resistance in five of the six large states where they pushed for similar legislation this spring: New York, Texas, Florida, New Jersey and Pennsylvania.
A review of legislative debates in these states finds that action was stymied by a range of issues related to driver background checks, service to disabled persons, fair treatment of drivers, competitive impacts on the taxi industry, and whether app-enabled ride services should be regulated by state or local governments.
This report addresses each of these issues, thus providing a blueprint for regulation of "Transportation Network Companies" (TNCs) such as Uber and Lyft. The report summarizes the debate on each of five key issues, assesses the arguments put forth by the various stakeholders, and makes recommendations designed to achieve core public policy goals of service, safety, competition and equity, while fairly balancing competing interests of companies, drivers, customers and cities themselves. The blueprint is intended to aid in legislative deliberations as legislators take up TNC bills later this year or early in 2017.
Resolving the current legislative impasse is of growing importance as TNCs become an increasingly important transportation option, enhancing the attractiveness of cities as places to live, work and recreate. Legislative decisions being made now will affect public safety, the economic fortunes of TNC and taxi companies and drivers, availability of service to disabled persons, and the competitive balance between Uber, Lyft, taxis, new TNCs entering the market and potential entrants such as Google. Furthermore, decisions being made now have implications for the introduction of self-driving vehicles, which augur a revolution in urban transportation.
The history of taxi regulation shows the importance and potential peril of regulatory policy making. Shaped by decisions over many decades, the taxi regulatory system served to limit competition and innovation, compromise the attractiveness of taxi service and ultimately served to limit cabs to a niche role in city transportation networks. Achieving an effective and equitable blend of regulation and market competition is clearly critical to realizing the potential of both TNC and taxi services as they evolve and expand.
This blueprint for TNC and taxi regulation includes recommendations on five key issues that stymied approval of TNC bills in big-state legislatures this year:
Level playing field: To stem the loss of customers to TNCs, taxi owners across the country have called for repeal of regulatory constraints and the opportunity to compete with TNCs on a "level playing field." This report recommends repealing key regulations on dispatched taxi service, creating the basis for fair competition between taxi and TNC companies based on consumer choice for customers requesting service by telephone or smartphone app. However, decades of experience with taxi regulation have shown the need to retain more extensive regulations, including numerical controls and fare regulation, for "flag" service (e.g., taxi stands and street hail) to prevent oversupply, fare gouging and chaotic street conditions. More flexible ways to do so, and to institute a two-tiered structure with fewer regulations for dispatch trips and a more extensive set of regulations for flag trips are discussed in the report, with relevant examples.
Fingerprinting drivers: Whether TNC drivers should undergo fingerprint-based criminal record checks is a major subject of debate and led Uber and Lyft to withdraw from several cities that required these checks. This report recommends that driver-related risks should be addressed using a combination of state-of-the-practice safety management systems that monitor, train and provide feedback to drivers, and more traditional fingerprint-based criminal record checks that are the established best practice for identifying drivers with criminal records. TNC concerns with processing delays and incomplete FBI records can be addressed with electronic fingerprinting technology, follow-up where disposition information is missing, and use of temporary driver licenses where the fingerprint-based checks are unacceptably slow.
Wheelchair-accessible service: There are a variety of issues related to service for disabled persons, but clearly the most challenging issue concerns wheelchair-accessible service, which has for many years been lacking for taxicabs as well as TNCs. The report assesses previous attempts to provide prompt and reliable accessible taxi service. The main finding is that the most common approach, which mandates individual components of accessible service (vehicle mandates, financial incentives, separate dispatch services) has proven largely ineffective in meeting the needs of wheelchair users. The report recommends that these "kit of parts" mandates be replaced with an approach that focuses on identifying and enlisting dispatch companies who together with their drivers have the commitment and resources to do the job well, and thus both the means and desire to put together driver, vehicle and dispatching effectively. The program should be funded through a fee on all ride service trips and provide user-side subsidies to encourage good service in an open and competitive market.

Independent contractor or employee: This hotly debated issue is often framed in either/or terms that divert attention from the legitimate and often shared interests of companies and drivers. Framing of this issue should recognize that the relationship between TNCs and drivers is complex and includes elements of independence as well as control that are important for both sides. Drivers' desire for both independence and fair treatment should be addressed by providing civil rights protections, and ensuring that worker benefits are either provided by law or left to meaningful channels of negotiation between drivers and companies. Legislation should also provide companies (TNC and taxi) with the right to exercise an appropriate level of control over their operations that is critical to prompt, reliable and consistent service. Legislation that addresses both sides' interests will benefit drivers, companies and the public's need for prompt, reliable and consistent service.
State or local regulation: Creating an effective and right-sized regulatory system is intertwined with the issue of who should regulate: state or local agencies. The key considerations are ensuring the right level of regulation and erasing disparities in TNC and taxi regulations. The report finds that experience with taxi regulation shows that taxi flag markets have universally required -- and should continue to have -- a regulator with a local or regional focus to administer the more extensive regulatory apparatus needed to assure quality and appropriate supply of flag service. This will most likely be a city, county or possibly regional agency. Concerns about avoiding a "patchwork" of local regulations can be addressed in several ways discussed in the report. In cities where dispatch trips predominate, regulatory authority can be more readily assigned to either a local or state agency. Examples of different regulatory structures -- state and local and combinations -- are discussed to help legislators tailor the legislation to their own circumstances.
Creating a fair, effective and durable regulatory structure that covers TNCs, taxis and sedan services as they compete and evolve is a difficult and challenging task -- and one that is important to get right. Regulatory structures need to be carefully designed and administered to achieve the goals of service, safety, competition, equity and regulatory effectiveness. This blueprint is designed to help in that process. The blueprint is also intended to provide a foundation for continued expansion of TNC services to include shared trip-making, "filling empty seats" of commuters on their way to work, expanding to "microtransit" services that resemble traditional public transit, and the incorporation of self-driving vehicles.
---
Key Facts Discussed in the Report
The states with the largest ride services industries are (in rank order): New York, California, Florida, Texas, Illinois, New Jersey, Pennsylvania and Massachusetts, each with at least 3 percent of the U.S. industry. These states account for over one-half of the industry nationally.
The taxi and limo industry showed robust growth prior to arrival of TNCs. Industry revenues (adjusted for inflation) grew by 23 percent from 1997 to 2002; 25 percent from 2002 to 2007 and 14 percent from 2007 to 2012.
But with competition from Uber and Lyft, taxi ridership has fallen in the range of 15 to 43 percent in Los Angeles, Las Vegas, New York, New Orleans, Seattle, Boston and Portland, Oregon.
Despite taxi ridership declines, the overall market for TNC/taxi services grew by 8 percent in New York, 40 percent in Portland, Oregon and 65 percent in New Orleans.
As measured by U.S. Census data, the number of "taxi drivers and chauffeurs" surged by 15 percent in 2014 after increasing at an annual rate of about 3 percent previously.
Although not as skewed toward full-time drivers as taxis, most TNC service is provided by drivers who work full-time or close to it: 41 percent of Uber service in the company's twenty largest U.S. markets are provided by drivers who work at least 35 hours a week. In addition, 38 percent of Uber service is provided by drivers working close to half-time or more (16 to 34 hours a week).
The cost to Uber of a package of driver benefits that includes unemployment compensation, workers compensation, health insurance, 401k contributions and vacation and sick leave for full-time drivers is estimated to be about 9 percent of total fare revenues. Adding in the employer share of FICA and Medicaid contributions would bring costs of a quite robust benefits package to 15 percent of revenues