December 7, 2003
46 Years in Cab, Recalling That Tip From Marilyn
By MICHAEL LUO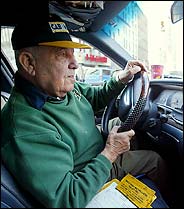 t is a bitter cold morning and darkness still shrouds the city, but Sam Goldstein is already prowling the Lower East Side in his yellow taxicab.
A mother and daughter flag him down for a lift to a nearby elementary school, but as he pulls up to their destination, he realizes he forgot to turn on his meter.
"Take $6," said the mother, gently pressing the bills into his hand.
After nearly five decades of driving, Mr. Goldstein is thought by taxi industry officials to be the longest-serving active cabdriver in New York City. Over the years, he has squired around the likes of Marilyn Monroe, Frank Sinatra and Muhammad Ali. But at 80, he is fading and he knows it. "I forget things," he said.
Next month, Mr. Goldstein's cab is due for retirement after five years' service — a city rule — and he will probably follow suit. His family has been pushing retirement for quite a while, but when the day comes the city will lose a piece of its history.
"He represents the old breed of cabdrivers," said Richard Kay, the chief executive officer of the League of Mutual Taxi Owners, which represents owner-drivers. "You don't see them anymore."
Taxis used to be the province of European Jewish immigrants like Mr. Goldstein — a Holocaust survivor from Poland — as well as the Irish and Italians. From them came the caricature of the New York City cabby with the tweed hat, the cigar and the salty wit, a stereotype that Mr. Goldstein once embodied. Today a baseball cap and a toothpick have replaced the tweed hat and the cigar. The wit, though, remains.
As Mr. Goldstein likes to say in his gravelly drawl, his eyes crinkled and his grin wide, "I'm the last of the Mohicans."
Cab driving remains mostly an immigrants' profession, but the immigrants are now predominantly South Asian. The industry, too, has changed, particularly its economics. A medallion costs an individual driver $225,000, so most drivers lease their cabs or work for a large fleet. Turnover is high. Career cabbies like Mr. Goldstein, who own their own medallions and cars and are in it for the long haul, are rare.
After dropping off the mother and daughter at school, Mr. Goldstein is busy. Lots of people are clamoring for cabs to escape the morning chill. He navigates the roads with a steady, practiced hand and still works four and a half days a week.
"It's already in my blood," he said. "You cannot take it away from me."
As he makes his way north to Union Square, he spots a man in a coat and tie on a corner who climbs in and tells him to go to 53rd Street and Seventh Avenue.
Heading uptown, under the MetLife building, Mr. Goldstein tells of how, when it was still the Pan Am building in 1977, he was driving by on a summer afternoon as the strut of a helicopter that had just landed on the roof gave way, flinging the aircraft onto its side and sending its rotor flying into the street below. Several people were killed.
His memory of the past remains sharp, from the hippies to the yuppies, the first blackout to the last. It is the very recent that gives him trouble. Coming out on the other side of the MetLife building, he asks his passenger: "Where are you going again? Oh yeah, 53rd Street."
Mr. Goldstein came to New York in 1949, the only member of his family to survive the Holocaust. At first he worked as a butcher on the Lower East Side, but soon after getting married and having a daughter, the first of two children, he began driving part time for a taxi fleet.
At that time — he and his wife think it was 1957 — the base fare was 25 cents, and every four blocks the meter ticked off another nickel. Still, he found he could earn more in one night driving than he could all week as a butcher. So in 1968, he put $2,000 down toward his own medallion, which cost $27,000, spent an additional $2,000 to buy his first car, a Dodge Coronet, and he was in business.
In those days, he hustled, working 12- to 14-hour days, six days a week. Only several years ago did he begin to cut back.
This morning, though, he is still hustling. On 49th Street, he turns left, prompting his worried passenger to pipe up, but Mr. Goldstein reassures him that he is just taking a faster route. "You see, when you catch a light, you make a turn," he said.
Sure enough, he makes good time to 53rd and Seventh.
His customers keep him going. "If I cannot talk to the passengers," he said, "I would quit."
He is one of the rare drivers who does not have a bulletproof partition in his cab. Instead, a few years ago the city outfitted him with a surveillance camera. The first one issued, the camera records who gets in and out of Mr. Goldstein's back seat, a safety measure that does not interfere with his regaling passengers with his tales.
But with his memory fading, he has a tendency to repeat his stories. There is the one about Marilyn Monroe, whom he picked up at 444 East 57th Street and delivered to Penn Station. She gave him a peck on the cheek, he said. When he got home with lipstick on his face, his wife asked him, "Which hooker kissed you?"
"I said, `Sweetheart, I'd like to marry the hooker,' " he said.
Or the time he found $800 on the floor of his cab and turned it in. The grateful customer wanted to give him some of the money, but he told the man to keep it. He was just doing his job.
His family members talk about Sept. 11, 2001, when they frantically tried to get through to him on his cellphone. When they finally reached him, Mr. Goldstein was up on 96th Street, on the Upper East Side, working. His son, Marc, yelled at him to get home.
"It's busy," his father protested.
He never had time for hobbies, his relatives said, so it is not surprising that at this point in life, all he knows is to keep driving.
"It's like taking away candy from a baby," his wife, Shayne Goldstein, said. "He knows to take a shower, get dressed and go to work."
By 9 a.m., the avenues are clogged with rush-hour traffic. A hedge-fund manager who is late for a meeting persuades him to wait while the manager drops his son off at nursery school. Mr. Goldstein grumbles but agrees. After a slow slog down Park Avenue, he is rewarded with a nice tip.
These days, owner-drivers like Mr. Goldstein account for less than a third of New York City cabs, and when those who lease their cabs for a second shift are factored in, the chances of getting an owner-driver when hailing a cab are less than one in six, according to Bruce Schaller, a consultant for the taxi industry. In contrast, during the 1970's, almost every driver on the road owned his cab.
Studies show that owner-drivers provide better service, have fewer accidents and know the city better, Mr. Schaller said.
"It's like renting versus owning your own house," he said. "Who keeps up the place better?"
Mr. Goldstein seems to bear him out. His cab is immaculate. He has never had a serious accident, and he is a virtual Rolodex of New York City addresses.
Lately, however, Mr. Goldstein said, he has felt the same economic squeeze suffered by drivers, owners and renters, alike. Expenses are higher and cabbies have been agitating for a fare increase.
"It doesn't pay," he said of what he does. "Expenses will kill you."
Still, he has made a decent, though not an easy, living driving a cab. He owns a two-bedroom co-op in the East Village and put two children through college.
His hack license also earned him a brief moment in the spotlight a few years ago. In 1999, Mr. Goldstein's cab was crushed when the garage where he parked collapsed. Mayor Rudolph W. Giuliani held a news conference and promised him a new cab, as did Rosie O'Donnell. In the end, he got one, but insurance paid for it. It is the one he will retire in. "When the car goes, " he said, "I go."
Fighting traffic in Times Square, he points to a packed corner. There used to be a theater there, where Ella Fitzgerald, Tony Bennett and others performed.
"The old days were better," he says, before switching on his "off-duty" light.